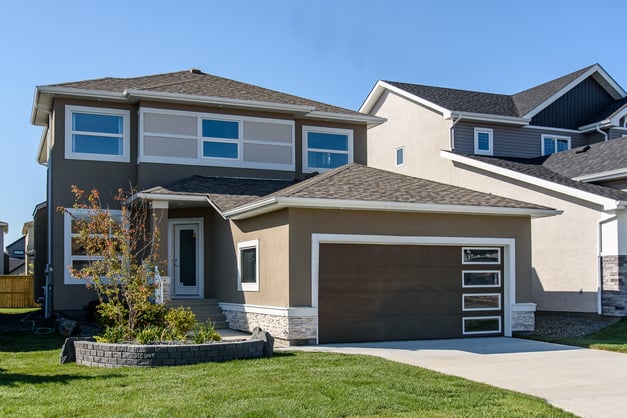 When starting the process of building your new home there are a lot of things to consider. Whether it's which community you want to build in, how big of a home you want or what you want included regarding interior features, it's important to know what your builder has to offer you when it comes to standard specifications. There is a lot of information, so grab your favorite snack and stay tuned as we go through the major points in what Broadview Homes has to offer for standard options.
*Please note that standard specifications are subject to change and this blog post has been written with the effective date of January 1, 2020.
What Are Standard Specifications
Standard specifications are all of the items that your builder has included in the base price of your home. This can range from the type of casing they provide around doorways, the materials used for flooring or what plumbing and electrical features are included. These options differ from builder to builder, as some choose to include more in their standard options than others. However, it's important to keep in mind that the more that is included as standard options, the higher the base price of the home tends to be. Some builders will choose to include more entry level features or selections, allowing a lower starting price point. This can provide more flexibility for home buyers to include additional features or upgrades if they desire or their budget allows. Other builders may choose to include many high end features in their standard options which then creates a higher starting price. It's also important to note that whatever isn't included in your standard specifications can be considered an upgrade, and may end up costing more to include in your home so be sure to keep this in mind when comparing base prices and standard specifications.
Kitchen Features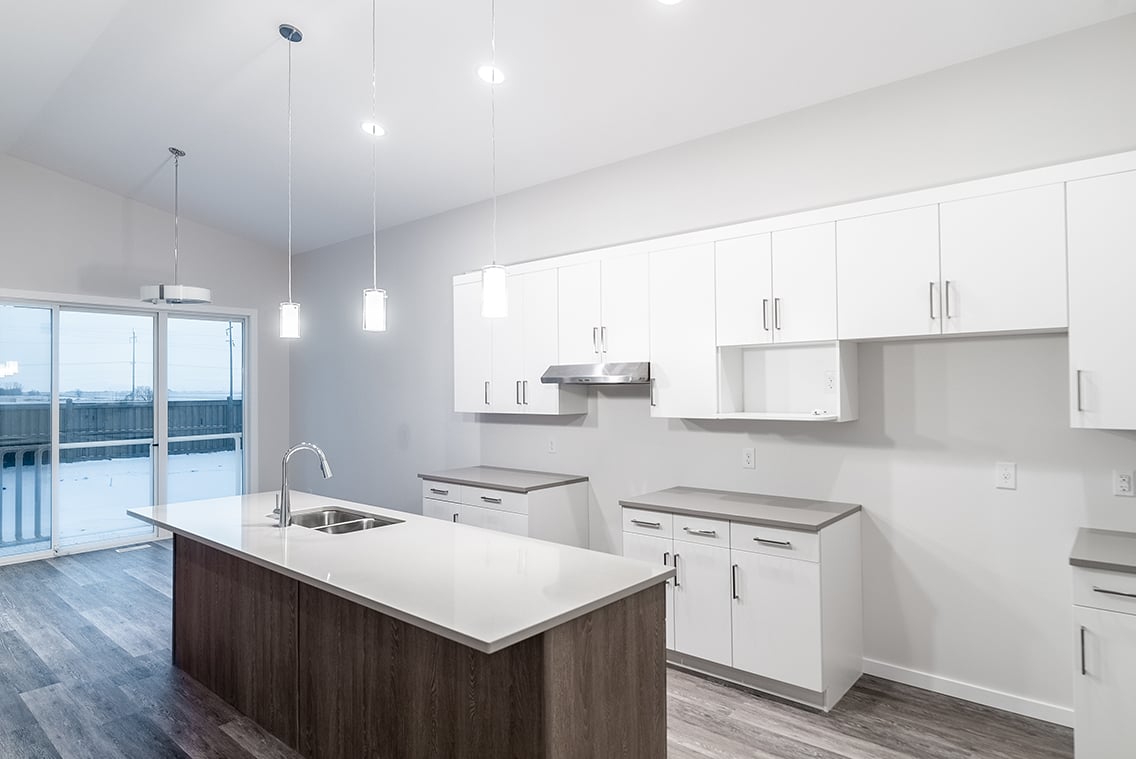 When you purchase a Broadview Home, you'll have a good amount of options when it comes to the finish of your kitchen cabinets. You can choose between Soho cabinets (Thermofoil) that come in 5 solid colours, or Contempra cabinets (Melamine) with the choice between 2 solid colours, 4 woodgrain colours or 7 textured horizontal woodgrain colours. No matter which you choose, upper crown mouldings are also included.
You'll also have a double basin stainless steel sink, a Moen Integra pull-out single lever sprayer faucet, a 36" refrigerator space and the rough-in for your dishwasher, which includes the plumbing and electrical. A bank of drawers in the kitchen is also provided, depending on the specific plan you choose.
Bathroom Features
In order to create a cohesive look throughout the home, the standard vanities will match whatever you chose to have in the kitchen, and are finished with cultured marble vanity tops, oval basins and chrome single lever taps. The mirror will extend the full length of the vanity, and all of the fixtures will be white. A 1-piece acrylic tub and shower unit is also included, however you can choose to upgrade to a shower if it can be accommodated in your plan. To finish off, you'll receive chrome finished accessories and temperature balance control on all showers.
Interior Features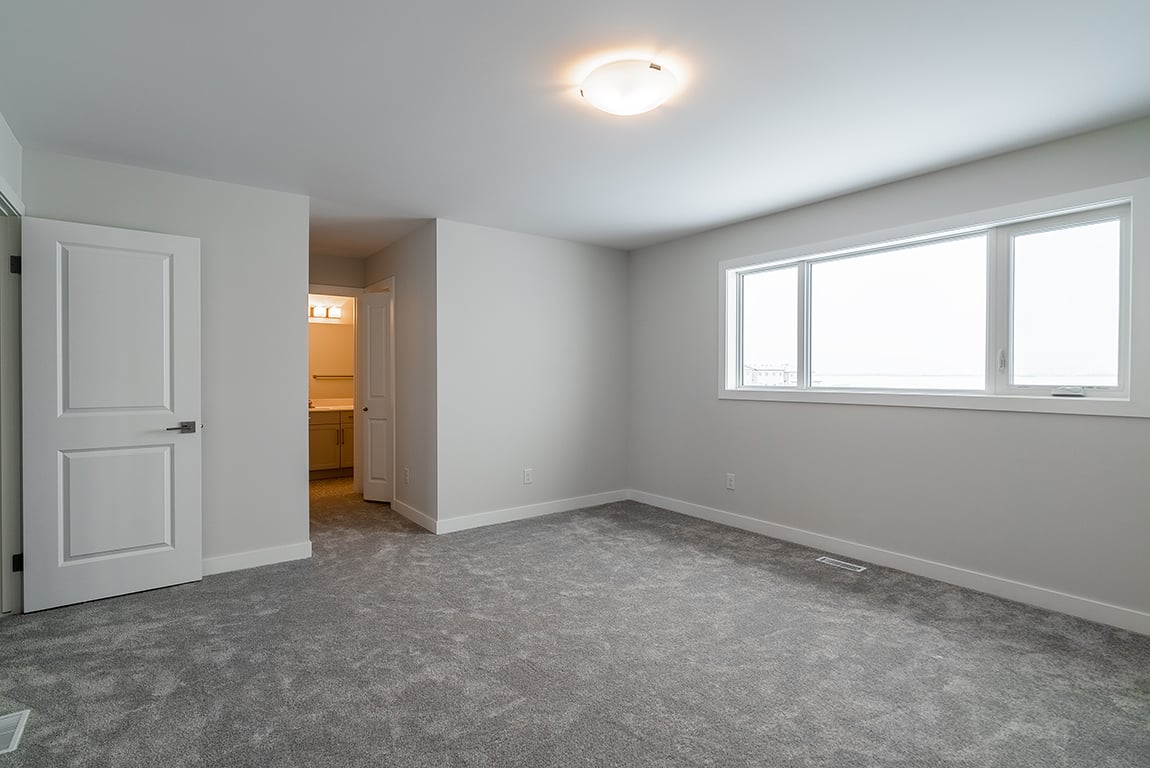 All homes will be finished with flat painted ceilings and equipped with decora counter height plugs and switches, as well as satin chrome hardware where applicable. All of your interior doors come in a white painted 2 panel square style with a smooth finish, apart from your pantry door which comes in 2 colour options – white or antique white - as well as 3 options for a glass insert, or a non-glass bi-fold door, dependent on your plan.
Your walls will be painted with a premium primer coat and a finish coat of low VOC latex paint, with 5 colours to choose from, and flat painted ceilings are now standard in all Broadview Homes. All of your closets will be finished with wire shelving and bi-fold interior doors with ½" jambs, while any walk-in closets will have full jambs. Low maintenance vinyl flooring is provided in the kitchen, foyer and all bathrooms, and the rest of your home will have a high quality, 100% Anso Nylon carpeting equipped with stain protection and a 7lb high density underpad, and is available in a wide variety of colours. Casing and baseboards will be 3" flat MDF with two paint options - white or antique white, and the stairs to the basement will be painted gray.
Plumbing and Electrical Features
There are a lot of plumbing and electrical features that are included in your home, so we'll take you through the main points.
Every Broadview home will be equipped with an HRV system (heat recovery ventilator), a 95% efficient furnace with an ECM motor, the pre-wire for an alarm system for the exterior doors and motion sensors, and a programmable thermostat. LED light bulbs are included where applicable in the builder's pre-selected contemporary style light fixture package. A 100 amp electrical service with 48 circuit capacity panel comes standard, and while this is generally more than enough for the average household, you do have the option to upgrade to a 200 amp panel if you wish.
Permanently wired safety smoke alarms are installed on all levels and in every bedroom, and carbon monoxide detectors are installed outside all of the sleeping areas, so you can rest assured that your home is safe for you and your family members.
Drywall and Insulation Features
While the drywall and insulation may not be the most exciting feature of your home, it is an important one and it shouldn't be overlooked. The drywall used on your ceilings is ½" sag resistant drywall, and ½" drywall is secured to the walls with screws. You'll have R20 fibreglass insulation with 6 mil poly on all of the exterior walls, R50 insulation in the ceilings, R20 basement insulation that is sealed with poly, as well as poly pans around exterior wall outlets and high heel trusses to allow for maximum insulation.
We understand that this isn't everyday information, so if you have any questions, don't hesitate to ask your New Home Sales Consultant about it.
Exterior Features
Depending on the plan you choose, the exterior features may vary when it comes to stucco, brick or siding, however every home will be equipped with pre-finished maintenance free soffits, facia, eavestroughs and downspouts, which are available in a wide variety of colours, as well as swing up downspout extensions. Most homes have some areas of stucco, and a "natural" stucco finish is standard with optional colours available. It is important to keep in mind that there may be variations from the colour sample due to the application process.
If you choose to build with Broadview, your home will be equipped with exterior lighting, which depending on the plan you choose will either be coach lights or potlights, as well as an exterior light at the back of your home. A poured concrete sidewalk with piles from the front step to the driveway, and a steel reinforced concrete driveway and approach is also included in Broadview's standard specifications.
Structural Features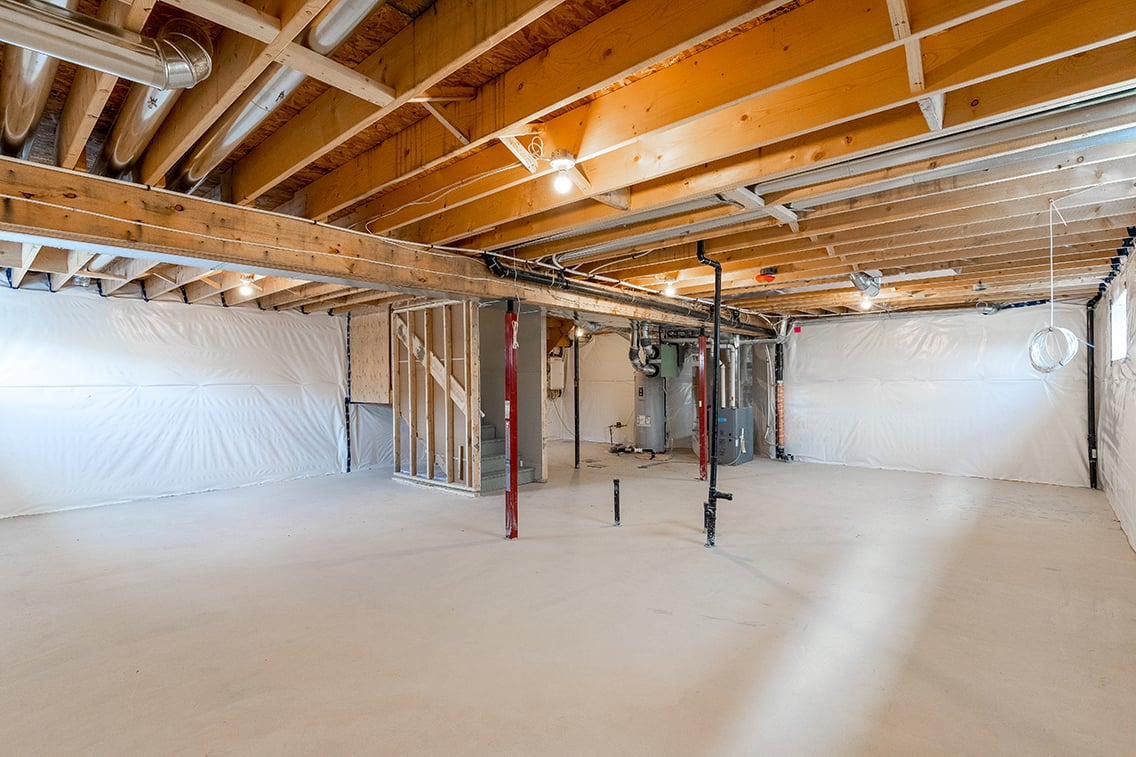 The structural features of your home can be another section that is overlooked when considering what your builder provides, but it's equally as important as the rest.
Your Broadview home will have a concrete piled foundation with concrete foundation walls that are steel reinforced and damp proofed. Some builders choose to use footings for the foundation of your home, but piles have a higher load capacity and resist corrosion, meaning your home will be well supported and you shouldn't run into any structural issues down the line. As not every builder includes piled foundation in their standard options, it's important to check for it when comparing builders, and ask if it's an option they provide. The basement floors will be 4" concrete and protected with a gas barrier and vent pipe for future radon gas mitigation, and if your home has a garage, it will have 4"steel reinforced floors with a centre steel reinforced beam.
On the upper levels, an engineer designed 2x8, 2x10 or pre-fabricated engineered floor system will be used, with ¾" OSB subfloors screwed to the joists. The interior walls are 2x4, 24" o.c., while the exterior walls are 2x6, 24" o.c. where possible to reduce thermal loss, and are sheeted in 7/16" OSB. There is also a minimum of 45 minute house to garage fire separation and the front of your home and all of the garage is sheeted in aspenite.
Door and Window Features
All of the windows in your home will be PVC triple glazed and hermetically sealed full vent casement, slider and picture windows or dual low E argon filled, with an extended manufacturer's warranty on both windows and doors. The front door and house to garage door are insulated fiberglass, while the garden door or patio door (dependent on your plan) are insulated metal. An insulated metal overhead garage door is provided, factory primed, and has an internal slide lock. In the basement, one 55" x 22" basement window and two 40" x 22" basement windows are provided, and are all dual argon filled PVC.
All of these standard inclusions mean that your home will be well sealed and insulated from any weather conditions that are happening outside, and your home will be free from drafts. This also means that your home will have a more consistent temperature, and your furnace and/or air conditioning won't have to work as hard to regulate temperatures within your home.
Please note that a rough-in on the exterior of your garage for a future man-door is not provided.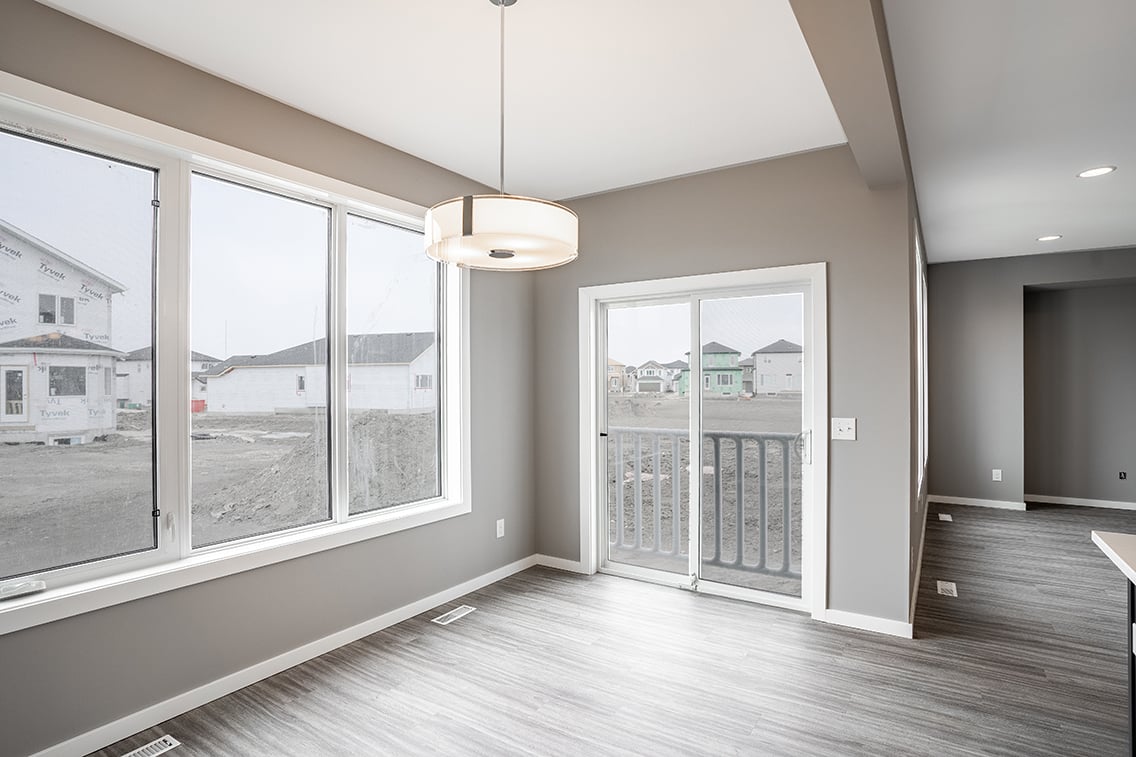 We hope that this has given you a good understanding of most of the standard inclusions in your new home, and it is important to keep in mind that these are the standard features. We also understand that there is a lot to think about when building your new home, and our New Home Sales Consultants will be there every step of the way to answer any questions you may have and guide you through the process. If you'd like to upgrade to something different, that option is open to you if it can be accommodated in your plan.
Be sure to talk to your New Home Sales Consultant on anything you may want to change and we'll be happy to do our best to make it work in your brand new Broadview Home.
*Please note that not all of the standard specifications have been included in this post. For more information, please contact your New Home Sales Consultant.*