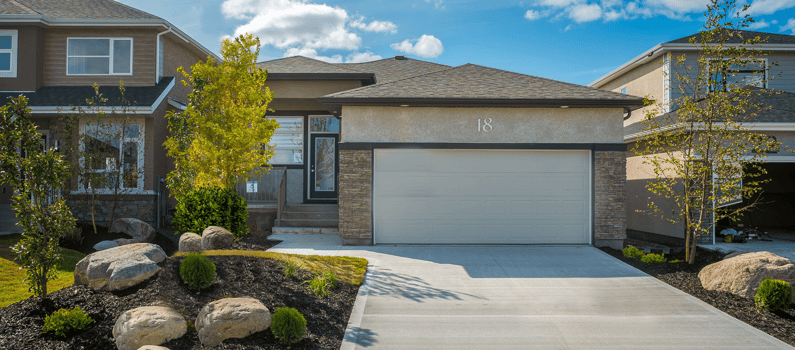 You've worked hard to save up your first down payment, so you want to be sure you're making the right choices when it comes to buying your home. A brand new home is a smart decision for many because you won't have to worry about renovations or things breaking down - but there are still plenty of things to consider regarding your wants and needs. Here are a few things you'll want to think about when it comes to choosing your new dream home:
Attached or Detached Living?
Broadview builds both duplex and single-family homes. Modern duplex homes often look like large 2-storey homes from the front, but they're actually two homes joined by a wall. Owners on a front lane street share a driveway but have separate garages and entrances to their homes. Homes that are rear lane have detached parking pads and optional garages.
Most models have about the same amount of square footage that you'd find in a detached home. Take the Sherwood, for instance. This home offers up over 1,500 square feet, three bedrooms and two and a half bathrooms - for less than what you'd pay for most single-family units.
What's more is you'll be pleasantly surprised to see how, in modern duplexes, shared walls are noise-free. Duplex homes are also a good choice for multigenerational family living. The grandparents buy one side of the home while their children and grandchildren buy the other side.
Detached single-family homes, on the other hand, may be preferred by larger families or those looking to upgrade to a new home. They feel more private because you're not sharing walls or a driveway and there's a lot of variety when it comes to single-family floor plans. For example, the Monticello has a walk-through pantry, a den and a dining room on the first floor whereas the Highview has two secondary bedrooms on the main floor (secluded master on the second), a large front entry foyer and an eating area that flows seamlessly into the great room.
Bungalow or Two-Storey?
Bungalows are single-storey homes with all the bedrooms and living areas on the main floor. They tend to appeal to retirees, those with mobility issues, or those who simply like the convenience of everything on one level. Though it's only a single-storey home, the Majestic model has almost 1,400 square feet and three bedrooms on the main floor. It's also possible to add more living space (a rec room, full bath and fourth bedroom) by finishing the basement.
Two-storey homes tend to have a universal appeal among families. Keeping all of the bedrooms upstairs gives them a sense of privacy from the entertaining areas. It's a popular choice for those who prefer to keep the main living areas and the bedrooms separate.
How Much Square Footage Do You Need?
In general, the bigger your home, the more it will cost, so it's wise to pay careful attention to your needs. Bigger isn't always better, especially if the extra square footage adds a room you won't really use, like a home office or an extra bedroom. You'll also spend more time cleaning a larger home.
Keep an open mind as you tour various show homes. A lot of people get stuck on the idea they won't be happy in a home that's less than 2,000 square feet, but when they see how spacious a well-planned 1,600 square foot home can be, they realize they can live comfortably without spending more. It's important to remember that more square footage adds to the price as it takes more materials to build the home.
What Features Are You Looking For?
As you look at your home options, you should also pay attention to any special features you really want in your home. The Seacrest and Seabring models offer laundry rooms on the second floor, which is a big convenience. Those who want extra space might like the Ellington which has the option of a bonus room on the second floor. These little features can make a big difference in how much you enjoy your home.
Affordability
Of course, the most important thing to consider when shopping for your first home is affordability. You want a home that comes with a comfortable mortgage payment. This often means looking at your own finances and determining the amount you're comfortable spending and calculating a home price based off of that. Banks can sometimes overestimate your true affordability because they don't know or take all of your expenses into account. The last thing you want is to put yourself in a position where you're struggling to make your monthly payment. It's good to keep in mind that just because you are approved for a certain amount, doesn't mean you have to or need to spend that much.
Which Community is Right For You?
You'll also have the opportunity to choose a great new community to live in - and Winnipeg has plenty to choose from. As you start narrowing down your options, think about your commute time and look for neighbourhoods close to the types of amenities you need. Ridgewood West for instance, might be nice for those who head out of the city on weekends as you are a short drive to the perimeter highway. Devonshire Park is a popular choice for those who want to live in East Winnipeg.
With careful consideration, you can find the perfect first home! Just keep in mind, it's an important decision, so you shouldn't rush into anything. Take time to explore all of your options by looking at various communities and show homes. Talk to the sales agent and to a mortgage lender about any questions you may have. Only after you've done this will you be happy with your decision.
*Originally posted February 5, 2018, updated on October 22, 2018.