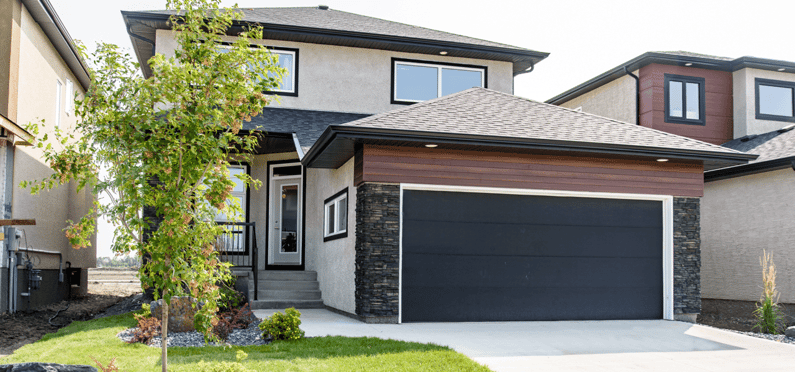 When you're thinking about building a new home for your family, you don't want to compromise. You know that you'll spend many years in this home, so you should make style choices that are good in the long-term. For many families, space is the most important feature of a home. You want enough space to hang out with each other - and even a few guests - but you also want space that feels more private.
At over 2,000 square feet, the Monticello model is one of our largest homes. Take a deeper look, and you'll see that this home has all of the features you're looking for.
Space for Living
The first thing you'll notice when you look at the Monticello is just how much space it has on the main living floor. A formal dining room or den at the front of the home sets this model apart from smaller floor plans. This room has a cantilevered section that gives you just a bit more space for a piece of furniture like a buffet or desk.
You'll also see that both the foyer and mudroom have quite a bit of space. No one will feel crowded when they enter your home, and you can easily fit everyone's coats in the closet. A washer and dryer in this area make it easy to get the laundry done.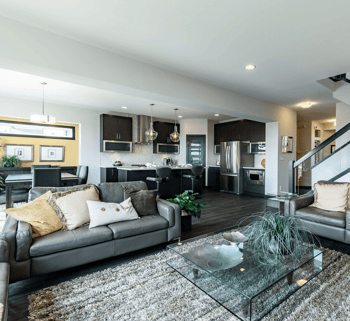 Busy families really appreciate the convenience of the walk-through pantry. There are just a few steps from the family entrance to the pantry, so you'll be able to quickly put the groceries away. From there, head into the completely modern kitchen. The sink and dishwasher are on an island at the centre of the kitchen, and the eating lip at the island is the perfect space for kids to enjoy a quick snack after school before they get started on their homework.
The large size of the eating area and the great room make this a perfect home for entertaining. If you've been dreaming about hosting Thanksgiving or having kids' birthday parties at your home, the Monticello should be at the top of your list. The great room is open to the second floor, giving the space an even more expansive feel.
Three or Four Bedrooms - The Choice is Yours!
One of the most unique aspects of the Monticello is that it allows you to choose to have either three or four bedrooms on the second floor. If you choose three bedrooms, the space will open to the great room, as we mentioned before. Adding a fourth bedroom, though, gives you the extra bedroom you need for a larger family, or it can ensure you have a guest bedroom when friends and family come to visit. The four-bedroom plan even allows for a homework nook, which is a nice touch, especially if you prefer to keep computers out of the kids' rooms.
Master Suite Options
You'll love escaping to your master suite. There's ample space for a king size bed and any other furniture you may want to put in here, but the best part is the attached ensuite. With a spa-like design, it's easy to come here to relax your cares away. Best of all, you can rearrange this space to suit your style. For instance, you could choose to have a basic shower/tub combo or replace this with a 4' shower. However, if you've been dreaming about an oversized soaker tub, that's a possibility as well. You'll just have a slightly smaller walk-in closet. The choice is yours.
Customized for Your Wants and Needs

We've already talked about some of the customizations you can make, but you'll also find a few more opportunities to make changes to the floor plan. For instance, some variations include a porch at the front of the home, while others have a basic covered entrance. Additionally, certain exterior elevation choices give you just a bit more space in one of the secondary bedrooms.
If your family needs even more space, you can choose to finish the basement. This will give you another bedroom with a walk-in closet, a full bathroom, and a very large rec room. This could be a nice in-law suite or a hang-out space for the kids.
Finally, building your home with Broadview means that you'll be able to make all of the design selections within the home as well. You can truly personalize every aspect to make this home meet your unique needs.
If our description and virtual tour have piqued your interest, why not come tour this home in person? We have a showhome based on the Monticello model located in the Amber Gates community. It's a great way to get a sense of the type of quality Broadview offers. If you really like what you see, please feel free to get in touch with us about how you can get started building your very own Broadview home, too!