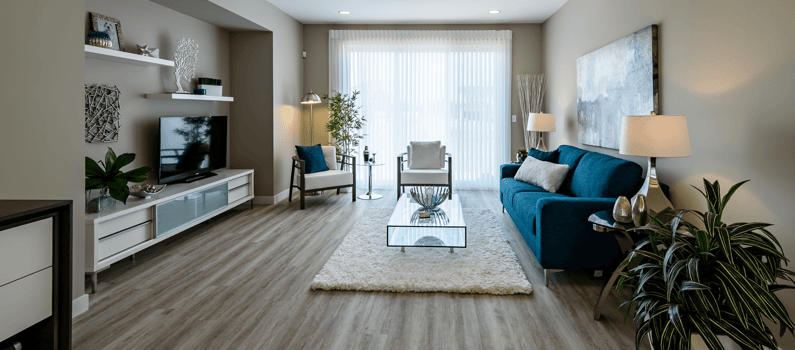 When choosing the flooring for your new home, you'll want something that's both stylish and practical. These days, almost every type of material comes in a wide range of colours, so it's not just about whether you want wood floors or carpeting. Let's take a look at some of the available choices so you can consider which ones will best suit the needs of your family.
Carpet
There are a variety of carpet styles, from short looped styles that hold up well in high-traffic areas, to lush, cut pile carpets. You can get carpeting in just about any colour you want, and certain brands and styles are treated with anti-staining products.
Carpet feels cozy under your toes, which is why it's such a popular choice for the bedrooms and upstairs hallways. As an added benefit, it can dampen sounds so you won't hear people walking around upstairs. If you're choosing carpet for your floors, consider getting upgraded padding underneath to make the carpet last longer.
Be aware, however, that carpet will need some upkeep - even when vacuumed regularly it can still hold some dirt and pet dander, so keep this in mind if you have frequent visitors or family members who may have allergies. You'll also need to steam clean carpets occasionally to keep them fresh.
Hardwood
Hardwood is a classic flooring choice, especially for living and dining rooms. With proper care, it will last for a long time, and it makes your home attractive to buyers if you ever want to sell. Colours vary by the type of wood, but many can be treated to achieve a darker look if that's what you prefer.
Remember that certain types of hardwood floors are softer than others. Softer woods are more likely to be damaged with dents and scratches. Oak and maple are popular choices because they are so durable. Cherry and walnut floors are less durable, but some prefer the elegant look.
Hardwood floors require constant care. You can never let water sit on the floor, and should vacuum or sweep for dust on a near-daily basis. Those with young children or pets sometimes find these solutions to be impractical due to wear and tear. Hardwood floors will also tend to be louder to walk on and won't muffle sounds as well as carpets, so bear this in mind if you're planning to use hardwood for the flooring in a high-traffic area, such as the hallways outside the kids' room, for example.
Vinyl Planks
Vinyl has long had a reputation as a cheap product for kitchens and bathrooms, but you might be surprised by what you see today. Newer versions can look just like hardwood floors, and vinyl planks are extremely durable - as well as being scratch-resistant and designed to withstand wear and tear from heavy traffic, it's also 100% waterproof. This makes vinyl plank a great choice for homes with kids and large pets running around.
Definitely think about vinyl in the kitchen, bathroom, and mudroom, but realize that vinyl could also look nice throughout the whole house. You could get vinyl that looks like colourful tiles, wood planks, or marble, so you have plenty of design options. It's also a great choice for a laundry room as it's easy to clean and absorbs a lot of sound, perfect for cancelling out those noisy machines!
Laminate
Laminate flooring gives your home the look of hardwood while being a bit less expensive and more durable. It doesn't always hold up well to water, so if you're thinking about putting it in a high-moisture area like the basement or a bathroom, be sure to choose a variety that's intended for this setting.
Laminate is a popular choice for families with children. The range of colours is nice because you can get floors that look like walnut without the same worries about damage that you'd have if you installed real walnut. The downside to laminate flooring is that it can't be refinished the way that hardwood floors can be - once damaged, it will need to be replaced.
You may also find that laminate flooring doesn't absorb quite as much noise as carpet or vinyl plank, and because it's not easily repaired, you can sometimes expect it to have less resale value compared to a flooring option like Hardwood.
Ceramic
Ceramic tile has an elegant look, particularly when used in the entryway. You can get large or small tiles in a variety of shapes that combine to form unique patterns. If any one piece is damaged, you simply need to replace that one area. Ceramic tile is also extremely waterproof and very easy to clean, and hardly ever stains.
Most ceramic tiles are made to handle ordinary traffic, but they can become damaged if you drop something extremely heavy on them. This surface can have small bumps and grooves, so they don't work as well for those in wheelchairs or those who use canes or walkers.
Ceramic can also be quite loud to walk on, and doesn't hold heat especially well, which is something to keep in mind for the Canadian winters. You may also find that after a while, the grout becomes discoloured and might require cleaning.
Stone and Tile
When it comes to the exterior of the home, many people opt for stone flooring for a more rugged, natural look. It also has the benefit of being durable and able to withstand most weather conditions.
With the extreme weather differences you'll often find in Canada (30 below in winter and 30 above in summer are not uncommon) this may lead to eventual cracking as the water in the stone expands and contracts, but minor cracks should be relatively easy to repair.
You can also consider stone flooring for the inside of your home, as it can work really well for a kitchen or bathroom floor. Be aware however that like ceramic tile, stone flooring can be noisy and hard to heat up, and can be a little harder on feet.
Flooring is an important choice for your home, so talk to your builder about how different materials can be better or worse for your particular lifestyle. With careful consideration and the above suggestions in mind, you'll be able to choose the flooring type(s) that make the most sense for you.