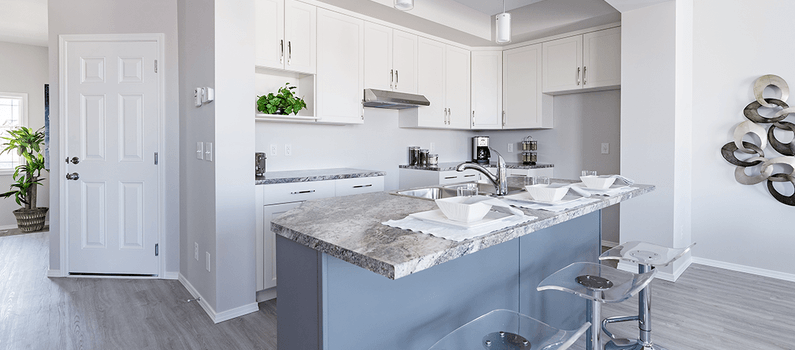 With Broadview's move-in ready homes, your family will be able to own a brand-new home with a timeline that's comparable to buying a resale home. That's a big convenience for busy families who want a new home but don't have the time to wait and don't want to pay two mortgages at the same time.
Our latest quick possession home at 247 Joynson Crescent has three bedrooms and over 1,800 square feet. It's in the up-and-coming RidgeWood West community, which is a great choice for families. Learn more about the home, then talk to a New Home Sales Representative to see how you can make it your own.
A Living Space for Family Life
This home has an absolutely massive foyer, with plenty of space for your family to remove all of their snow gear or for you to store backpacks and other odds and ends. It's also ideal if you want to host holiday parties and will have several guests arriving at the same time.
Beautiful and durable vinyl plank flooring connects all of the rooms in this open-concept floor plan. You'll instantly fall in love with the great room. There's a built-in fireplace and entertainment centre that makes the home feel cozier. With natural light shining in through the windows, the home feels light and airy. The same feeling is in the dining nook as well. There's a cantilevered area where you can place something like a buffet without taking up a lot of space in the room. With sliding patio doors that lead to the backyard, you can easily host a barbecue when the weather is nice.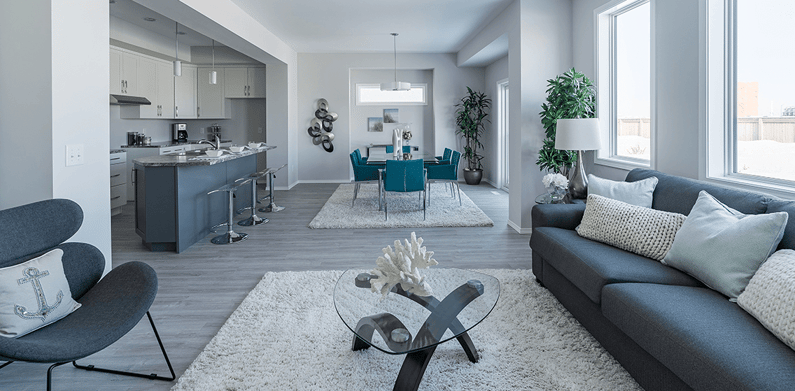 Love to cook? Enjoy spending time in your new kitchen. It features quartz countertops and white Thermofoil cabinets that serve to make the space feel brighter. With a few pops of colour in your accessories like dish towels and containers on the countertops, you can really personalize the space. The centre island is a massive 7 feet, giving you plenty of space for food prep or cleaning, allowing you to watch over the kids playing in the great room while you're taking care of chores. There's even a nice eating lip at the island where you might enjoy a casual breakfast or the kids could have an after-school snack.
Comfort Upstairs
Get ready to relax upstairs. The two secondary bedrooms at the front of the home are mirror images of each other and exactly the same size. The kids certainly won't be fighting over who gets the "better" room. And with a laundry room just outside of their bedrooms, you can encourage them to take care of their own laundry.
Your master suite is everything you've been dreaming about. The bedroom alone will make you feel like royalty. There's plenty of space for a king-size bed and additional furniture that you may be thinking about. Perhaps you'd like to create a sitting area for reading or a dressing table for putting on makeup. You can do it in this bedroom. With rods and shelving, the walk-in closet is the perfect place for you to store all of your clothing. It's just outside the ensuite, which we've chosen to upgrade with a 5' shower instead of the traditional tub combo. The bathroom sink in the ensuite - along with the others in the home - is made from cultured marble with a wave design. You'll love the look.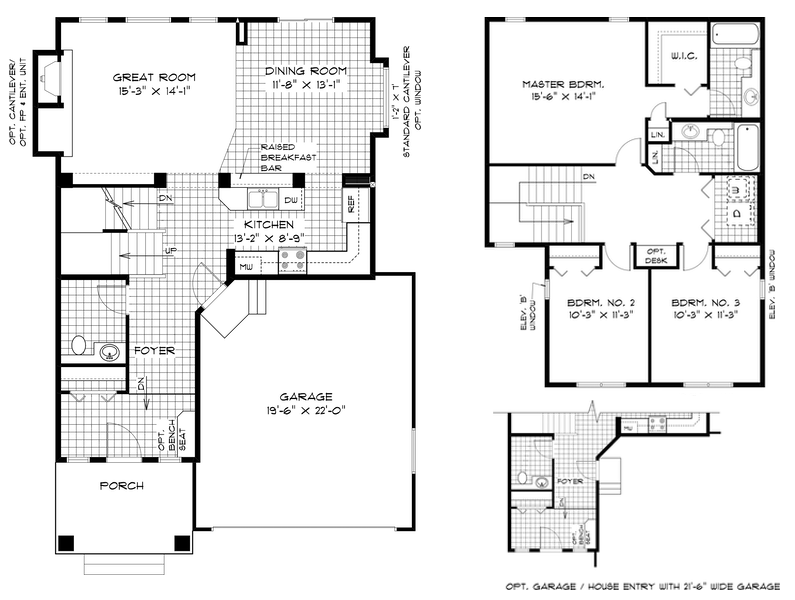 Looking for More?
Most of the design of this home has been completed, but you still have the option of finishing the basement. Doing this would add a large rec room, a fourth bedroom, and another full bathroom. It would be a great space for your teenagers to hang out with friends, but it could also be a private suite for an elderly family member. You're free to customize it to meet your needs.
Life in RidgeWood West
RidgeWood West is the latest neighbourhood in Charleswood, located in the western part of the city. It's within the city perimeter, making it easy for you to commute no matter where you work. We find that people who live here really enjoy feeling connected to nature. It's been designed to incorporate the natural beauty of the prairies, maintaining a good balance for the environment. The Harte Trail would be practically in your backyard, and it's not a long drive to the Assiniboine forest. With popular amenities nearby, this area has everything you've been looking for.
This home will be ready in just a month or two, so your family can start packing your things right now. Considering all the space and features you'll get, the $473,839 price tag is an absolute steal! Come check out this community and the quality of Broadview's work to see if this might be the home for you.
Please note: this home may not be exactly as pictured.