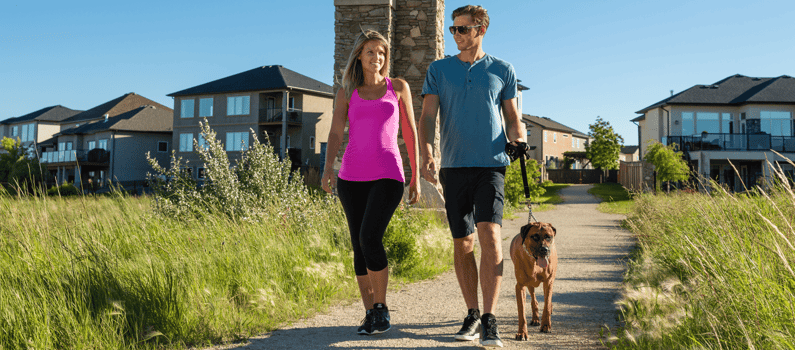 You already know that choosing the right community for your new home is every bit as important as finding the right floor plan for your family, but what exactly should you be looking for?
While every family has unique needs, convenience is perhaps the most important thing to seek out. In particular, we think that the following amenities are essential for happiness.
Grocery Stores and Big Box Stores
Every home needs a grocery store nearby — the closer, the better. While you'll probably do a weekly shopping trip to pick up the things you need, it's nice to be able to easily pick up a forgotten item on your way home from work. And while you may not need to visit a store like Walmart or Home Depot on a regular basis, it's a definite bonus to have one close by when you need clothing or home goods.
Most people can endure a 30-60 minute trip to a mall for something special, but you want stores that have your everyday essentials in your neighbourhood.
Parks and Recreation
No matter how nice your backyard is, you'll want to enjoy a bit of nature from time to time. A park is the perfect place to take a nature walk, have a picnic, or just bask in the warm sun. Many parks also have features like playgrounds or hills for tobogganing. Recreation centres are good places to take the family swimming, join a sports team, or get some exercise on your own.
Some communities actually have playgrounds, open green spaces, and walking trails built into the design, but if the community you're thinking about doesn't have these things, make sure to look for parks and recreation centres nearby.
Daycares and Schools
Naturally, you're going to want to make sure there are good schools and daycares around. In any neighbourhood, most children will go to the local public schools, though others may go to Catholic or private schools instead. If there is a particular school you're interested in, you'll want to find a community that is close by. Even when the school is willing to bus students from a distance, you don't want your child to spend hours on the bus.
Those with young children should carefully check out surrounding daycares or preschools. Pay attention to student-teacher ratios and the curriculum they use. Again, if there's a particular style you're interested in, such as Montessori or Reggio Emelia, you'll want a community that has this type of daycare or school nearby.
Healthcare Providers and Emergency Services
When you're not feeling well, you want a doctor nearby. If you already have a doctor you like, consider buying a home near her practice. Otherwise, check the neighbourhood for things like a doctor, a dentist, and an emergency clinic. If you need a specialist like an optometrist or orthodontist, you'll want to keep an eye out for them as well.
Specialty Offerings
Some families have unique needs. For instance, immigrant families often appreciate being near the specialty grocery stores that have the ingredients they need to make foods they enjoy from back home.
Other families might have a child who's heavily invested in a particular activity, such as dance or martial arts. While most areas have basic schools for these types of things, some might be considered better than others. Being near the right facilities for these activities makes a big difference if your child is going to be serious about their hobby.
If your family has any of these types of unique requirements, you'll want to be sure to do some research on your top community choices to ensure they're close by.
Public Transportation and Highway Access
Few people enjoy a long commute to work, so that's an important consideration when you're looking at various neighbourhoods. How much time will it take you to get from your new home to your workplace? The best neighbourhoods feature easy access to the highway. This usually allows you to get to work in a timely manner. Should you later change jobs, you'll still be able to easily get to the next place.
If you'd rather take public transportation, find a neighbourhood that has a nearby bus route, and bonus if it's one on a direct route to your place of employment!
Fortunately, the city of Winnipeg has fostered a strong commitment to building "Complete Communities". This means that when designing a new community, developers must ensure that it has everything that residents are looking for. No matter where you choose to live, you're likely to find the amenities you need. Come tour our popular communities to see how easy and comfortable your life can be.