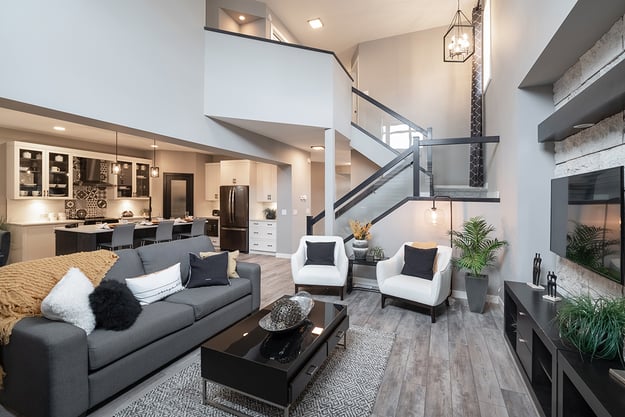 The trends in home design and decor are constantly changing and evolving over time. While there are some design trends that have remained relevant for years, there are also many that have made a big comeback after being frowned upon for a decade or two (we're looking at you, velvet!). We're here to take you through some of the trends that are popular in today's homes, and what has made its way back into our hearts (and homes) in today's design.
Bold Design: Colours, Contrast and Geometric Patterns
Being bold has made a comeback and we're here for it! Whether you want to paint the walls your favorite shade of purple or add some statement artwork, now is the time to jump on the bandwagon without the worry of being a design "faux-pas".
A couple of our favorites in this category are high contrast colours and geometric prints. The most notable when it comes to high contrast design is the black and white colour palette that has become very popular in home decor. Not only do these colours provide the highest contrast being at either end of the colour spectrum, they are also easily adaptable to almost any décor or accent colour you choose because of the neutral base they provide. You won't have any troubles adding pops of colour into your design and you can rest assured that your space will be timeless.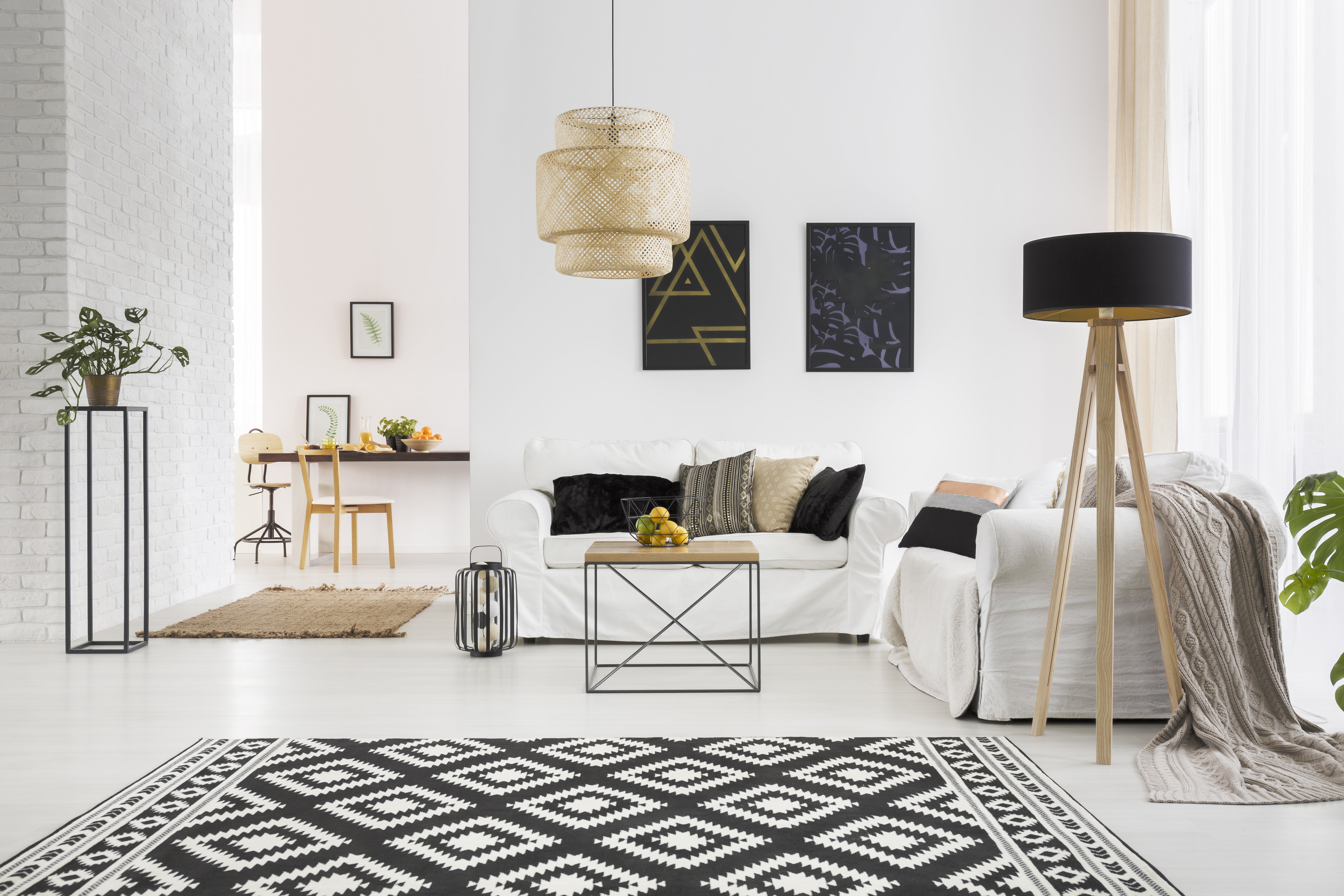 Geometric patterns are the perfect choice when you want to add more interest to your space with a unique aesthetic. Whether you're looking for a staple piece to make a statement in your room or would prefer a less-permanent solution to make your geometric dreams come true, there are a lot of options on the market.
If having a staple piece is up your alley, consider adding a backsplash in your kitchen that incorporates the pattern you love. If you really want to go bold, you can choose one that includes the accent colour you want in your home. If you're looking to have more freedom when it comes to the rest of the décor in your home, choose a design that has a more neutral colour palette and add pops of colour elsewhere (it's much easier to paint a wall than it is to change your backsplash!).
You can also choose to add geometric patterns in your décor that are easily replaceable if you like having the option to change things up. Consider purchasing a rug in the pattern you love, or add some accents in your throw pillows on the couch. You can even incorporate it in the prints you hang on your walls. These are great options for more affordable pieces that you can easily switch out if you decide you want to try something else later down the line.
Vintage Accents
We've all heard of "modern farmhouse" or "modern traditional" design, which incorporates some of the pieces we love from the past with today's modern appeal. In doing so, we create an interesting aesthetic that comes together in a beautiful way, giving you a truly timeless design. Whether you have pieces that have been passed down through the family or just love the look, there's ways you can implement this trend without the risk of making your home seem older than it is.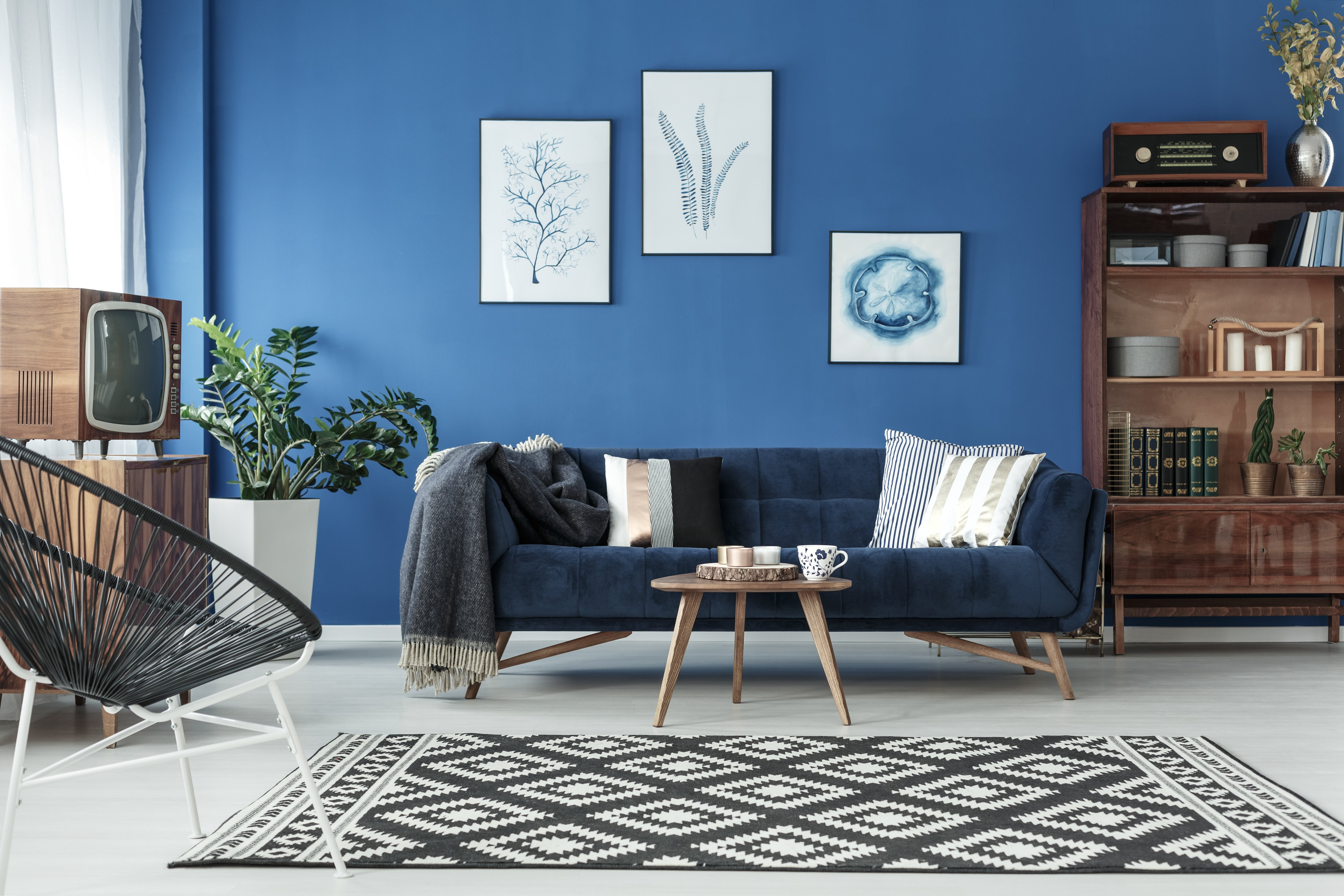 The key to incorporating vintage accents is to keep it as accents. Choose one or two of your favorite pieces to display as a statement, and don't overload your space with all of your vintage treasures. This will prevent you from having a dated look and allow you to create a focal point with the piece you love. Whether it is a trinket displayed on the shelf or your favorite couch from your parents home, it'll add a welcome twist to your otherwise modern home.
If you don't have any of your own pieces, start roaming around your local antique store or flea market. Many items can be repurposed or refinished to fit your style, and you may be surprised at what other people have decided to part with. Try to think outside of the box when you're looking as a coat of paint or new fabric can take a shabby old chair to a chic vintage piece.
Earth Tones
Earth tones have become a huge hit and they can be used in a variety of styles, such as in a Bohemian look or even in a modern styled home. We're now starting to move away from the cool tones that have been popular for the past few years, and into the warm tones that are found in nature, creating a more cozy and homey feel. Whether you are having trouble stepping away from the cool tones that we've loved for so long, or looking to dive head first into the earth toned trend, we have some solutions on how you can start to incorporate this in your home design.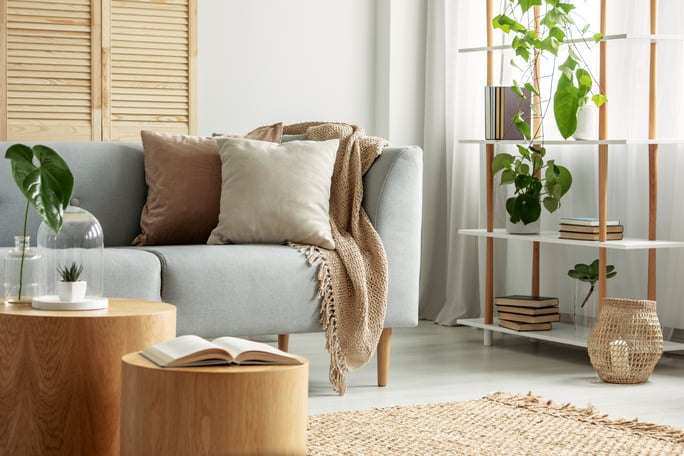 For those of us who still love the cool-toned trend and aren't ready to let go, you can easily incorporate the warm earth tones into your décor without having your pieces clash. Try adding a brown blanket to drape over your couch or a few throw pillows in a warm mustard colour. You can also add some natural wood pieces such as floating shelves or picture frames. These are simple, inexpensive ways to switch up your décor without having to commit to the style.
If you want to go all in, consider painting your walls or replacing your couch. Brown leather has been all the rage in home décor lately, and it gives a more masculine appearance that you can balance out with neutral florals and artwork. Keep in mind that having an earth toned space doesn't just mean a brown colour palette. You can mix it up by using forest green paint on your walls or even some muted mauve or terracotta colours. There are many ways to manipulate this trend to fit your personal style and we're sure you'll love the inviting feel it gives.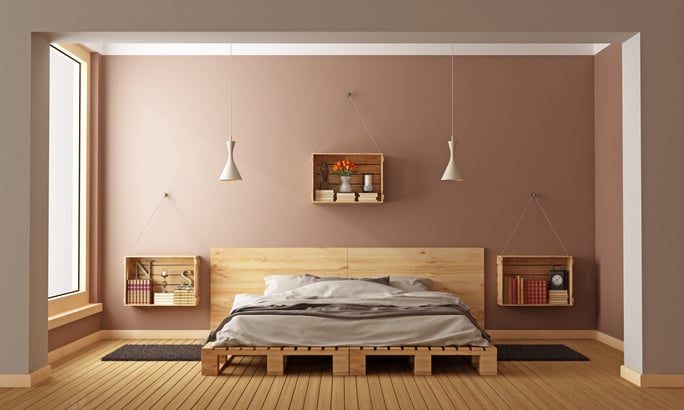 There are many new home trends that we can get on board with. Whether it's in the décor you choose or the layout of the home you're building, you're sure to find something that fits your needs and style, all while staying on trend in today's design and decor aesthetic. No matter which direction you go in, if your design and decor reflects your style, it's a win in our books!