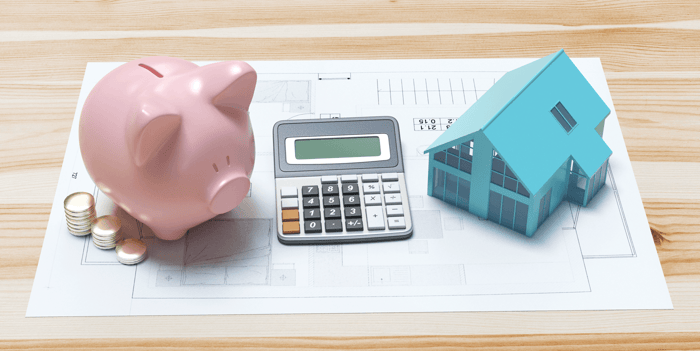 "I just can't afford to build a new home right now."
This is something a lot of people think. Here's the thing - it's a very common misconception that a new home build means paying an extravagant amount of money.
The truth?
A new home build simply means you're getting a brand new home; one that no other family has lived in. There is a wide variety of options, from a duplex to a two-storey, and you can find a great fit for your family, at a price you can afford.
Figure Out How Much You Can Afford for a New Home
Alright, you need to know how much you can actually afford before you go any further. And we're talking about how much in reality, not on paper, because the last thing you want is to become "house poor" (where you can make your mortgage payments, but not much else).
There are a lot of factors that go into determining your mortgage amount, but as a general guide, you can budget for about a quarter to a third of your monthly income to go towards your payment.
Check Out These First-Time Home Buyer Programs
If you're a first-time home buyer there are some great programs you can take advantage of:
RRSP Home Buyer's Plan: you might qualify to borrow up to $25,000 tax-free to use for your down payment. A note here - if you haven't purchased a home within the last four years you can still qualify for this program.

First-Time Home Buyer's Tax Credit: this program can help offset some of the closing costs; it's a non-refundable credit valued at $750.
GST/HST New Housing Rebate: the tax portion of your new home portion can be rebated if you qualify.
These programs can really help lower your costs of a new home.
Enjoy the Benefits from Home Builders
Besides the fact you are going to get a brand-new home, there are many other benefits you can get when you choose to build new, and sometimes those can include monetary options. But one of the top benefits of building a new home is the new home warranty. Broadview Homes, for example, offers a 1-2-7 year new home protection to our clients, through National Home Warranty.
Maybe you decide to go with a move-in ready home so you can move in right away. You gain a new home with beautiful upgrades and finishes without a lot of added cost.
Speaking of added costs....
What About Those "Hidden Fees" I Keep Hearing About?
We would like to set the record straight here. A good home builder doesn't surprise you with any extra costs or fees. These are all laid out and discussed with you, so you have a full understanding of what's expected from you.
When it comes to things like upgrades and other extras, again, your builder's agent will have explained how the process works and discussed expectations with you before ground is even broken on your new home. You aren't going to walk in on possession day and find out your countertops have added thousands to your purchase price; that's not how we work.
Oh, taxes? When it comes to your home, there are two different taxes you need to consider. That would be sales tax and property tax. Neither of these will be kept from you. When you buy a new home, you do need to pay GST on it, but normally that tax is added to your mortgage total - it's not something you have to pay separately. Property tax is calculated as a yearly amount and then divided by 12. That amount is then added to your mortgage payment as well.
Are There Other Costs I Need to Think About?
There are other fees and costs associated with buying a new home, but it's important to realize that all of these costs would apply to both a new home build or a resale home. These fees are things like closing costs, homeowner's insurance, legal fees, mortgage insurance, and more. And then there are things like moving costs, utilities, new furniture, landscaping and/or fencing, and more. While they may not all be necessary, they could be things you'll need to budget for.
But can we tell you a secret?
You don't need to pay for all of these items at the same time and as we mentioned, some of these will be calculated into your mortgage payment.
There are a lot of myths and misunderstanding out there when it comes to a new home. Just make sure to do your research and pick a quality home builder - you'll find that getting into your brand new dream home is much more affordable than you thought.
If you have other questions about buying a new home, we highly encourage you to take a trip out to one of our showhomes and talk with one of our representatives. They're highly knowledgeable and can answer any questions you might have. To make this super easy, we've created a printable showhome map, that you can print off and take with you to help you get to any one of our showhomes. Just click on the button below and download it now!