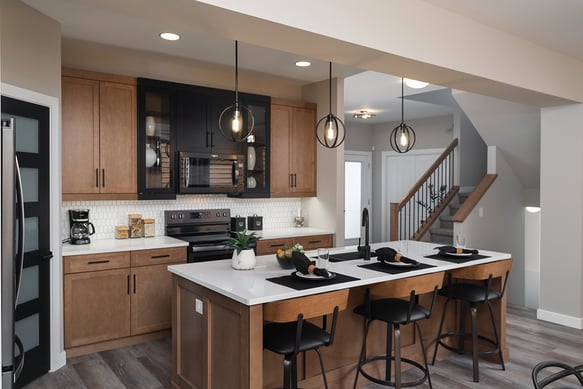 Building your home is the perfect time to personalize it to completely fit your needs and taste, but it's easy to overlook some of the features that would have made your home function in the best way for you and your family. All of our plans are designed with functionality in mind but sometimes there are little details that you may want to change or adjust to meet any specific needs or desires you may have. Keep reading for some of our favorite features - they may be just what you want in your brand new Broadview home!
Kitchen Features
The kitchen truly is the heart of the home. Whether you have a big family to make dinners for, love trying new recipes, or are just looking for a functional space to make your everyday meals, these features can take your kitchen to the next level when it comes to functionality and organization.
Base Cabinet Drawers
In most cases, kitchens are equipped with base cabinets that have shelves, with smaller drawer units above for your utensils. These serve their purpose well, giving you a place to store your kitchen appliances, Tupperware containers, baking sheets or your waste containers. Depending on what you're storing, changing your base cabinets to drawers can prevent you from having to shift things around to get to the items hiding in the back. Instead of having to take the items in front out, having a drawer will give you access to everything within the cabinet. Keeping your drawers organized will be a breeze!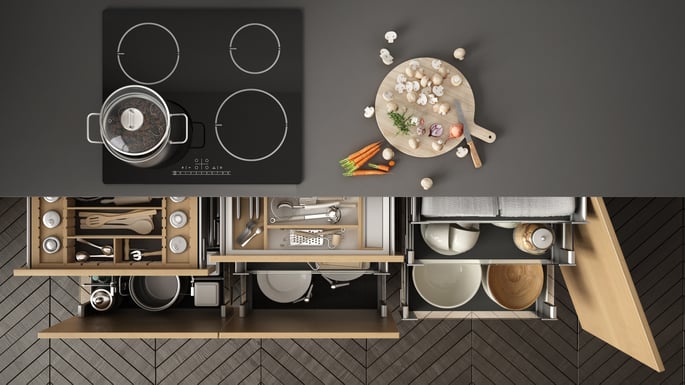 Base cabinet drawers can also be a good option to use as a slide-out waste system. Having your garbage can and recycling containers in a pull-out fashion provides ease when changing the bags, taking out the recycling container or even just depositing waste in the bin.
Taller Upper Cabinets
Having additional storage is always beneficial, allowing you to have some extra space when you may need it. Taller upper cabinets are a great option and allow you to take advantage of the extra space you'll have between the ceiling and the top of the cabinets. You can choose to enlarge the standard cabinets to be 40 ½ inches high, or add a smaller cabinet above them. Add glass inserts to the smaller upper cabinets for a beautiful accent in the space.
Over-the-Range Microwave
Speaking of additional storage, upgrading to an over-the-range microwave instead of a microwave shelf will give you more cabinet space and also doubles as a range hood above your stove. This means that you'll not only gain cabinet space where the microwave shelf was, you're now able to put another cabinet above the over-the-range microwave!
While our kitchens are already designed with functional living in mind, these features can enhance your space, creating the perfect fit for you.
Backyard Features
A lot of the time, your backyard becomes an extension of your home throughout the summer months and should be enjoyed to the fullest when the weather is nice. Make the most of it with a couple of features that are sure to up your backyard game and give you and your family a comfortable place to enjoy the outdoors from the comfort of your home base.
Rear Deck
A rear deck is a great option for any yard. Whether you prefer a small deck that can fit a couple of chairs and a table to enjoy your morning coffee, or you want a larger deck that will be the place for you to lounge on your outdoor furniture set or barbecue in the evenings, it will provide you with a space that's separate from your lawn, but still allows you to watch your kids or pets while playing outside.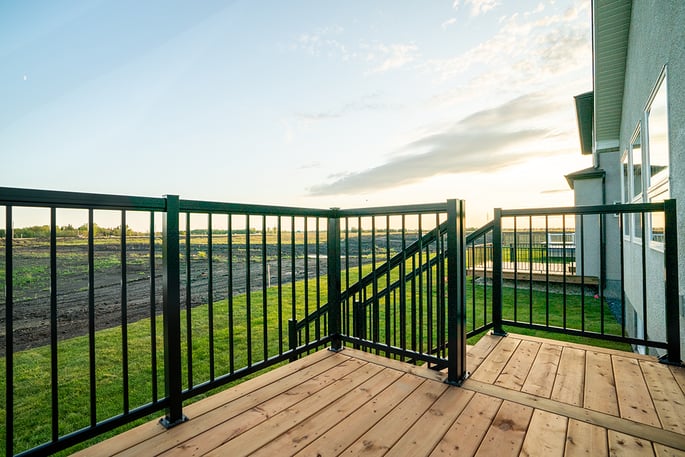 Covered Deck
You can choose to take it a step further and add a roof over your deck. A covered deck is perfect for those really sunny days or west facing yards that will get a lot of evening light, giving you a place to stay in the shade or give you shelter if it's raining.
Cantilevers
Cantilevers are the perfect solution to adding a bit of extra space where you need it, and they can be added almost anywhere. Add one in your dining room for a place to put your hutch or buffet where it won't be sticking out or in the way of your table and chairs. Consider adding one in your great room to have your television stand recessed within the cantilever, keeping the room more open or allowing more space for an extra piece of furniture. You could even add a cantilever in your mudroom to provide more space for storing coats and shoes. The options are endless, and better yet, many of our standard plans are already equipped with a cantilever!
Second Floor Loft
Depending on the home plan you choose, you may have a great room with grand 18' high ceilings. While this definitely has an upscale appeal that we love, you may prefer to utilize this space with an extra room. You can choose to add a second floor loft, giving you the extra room to use how you see fit. The great thing about having a loft is that they are incredibly versatile and can be used for almost anything. Set up a home office here, or use it as an additional entertainment space for family movie nights or when your kids have their friends over.
Closet Organization System
All of our closets are equipped with wire shelving and rods, so you'll be able to organize your clothes as soon as you move in, however, you can opt to include a customized closet organization system that will perfectly fit your needs and be ready to go as soon as you are.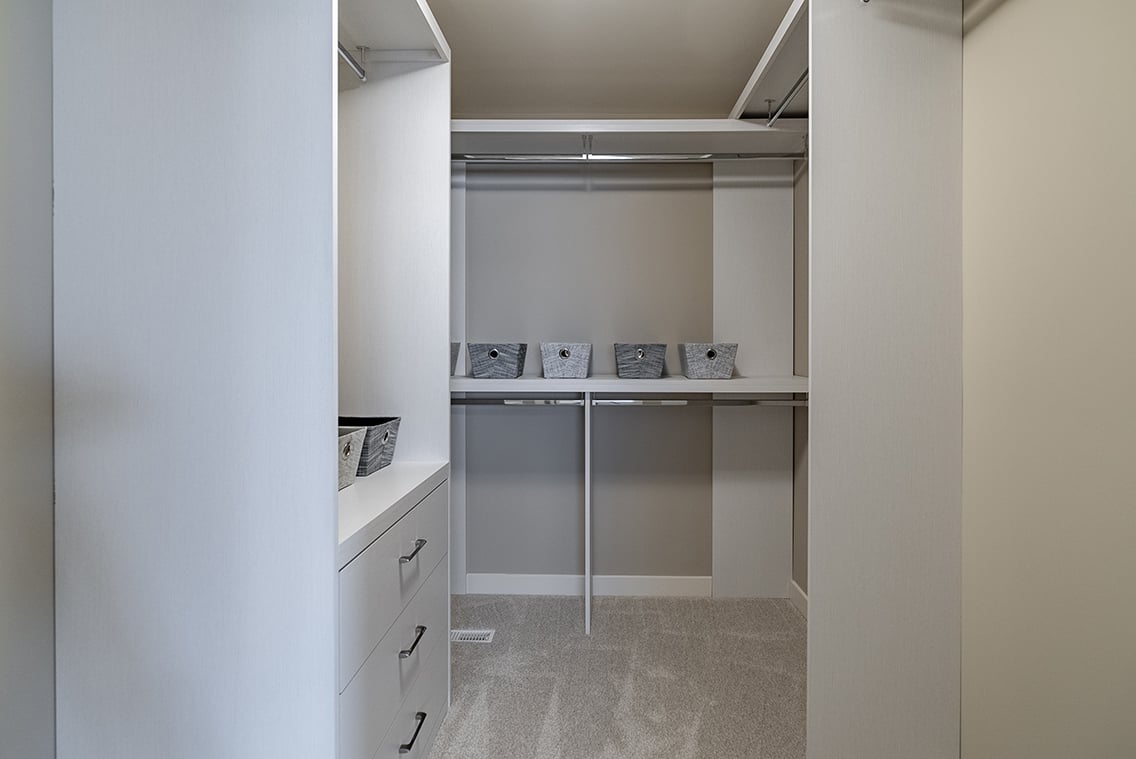 Bathroom Features
Whether you're looking to make your ensuite the spa-like oasis of your dreams or have your main bathroom be functional for your kids to share, here are a couple of features you may want to look into.
Double Sinks
Double sinks are perfect for a shared bathroom between you and your spouse or your kids. This will limit having to shuffle out of the way if you're getting ready at the same time, and with a larger vanity to accommodate the sinks, you'll have more room for your bathroom necessities.
Shower Stalls
A 1-piece tub and shower unit comes standard in every 4-piece bathroom, but you can choose to upgrade to a 4 or 5 foot standing shower in either the ensuite or the main bathroom, depending on what you and your family need. In some cases, this upgrade will free up some space to include a built-in shelving unit, perfect for storing extra towels, other bathroom necessities or just an additional storage space to use in the future.
Basement Features
It's not uncommon for the basement to be overlooked when building your new home. If you don't plan to develop it during your build, there are some features that you may want to consider now in preparation for future development.
9' High Walls
Our standard lower level plans come with 8' high walls, and while this is more than enough to function properly, upgrading to add the additional foot to your wall height can do wonders in making your basement feel more open and less "basement-like". This also gives you the option of upgrading your basement windows to a bigger size, allowing more natural light to the space.
Window Upgrades
Speaking of windows, you are still able to upgrade your standard 40" x 22" basement windows to a larger size whether or not you've added to your wall height. Be sure to speak to your New Home Sales Consultant and they will be able to walk you through the sizes that can be accommodated.
Steel Beams
A steel beam will allow you to either eliminate a telepost or relocate it to a less intrusive area. When developing your lower level, the walls to rooms are usually located where the teleposts are in order to conceal them, or if there isn't a wall to hide them, the teleposts are encased in drywall. The steel beam will give you the option to have more open space within your basement without a telepost obstructing the area.
Some additional features to consider are:
200 Amp Panel:

A 100 AMP panel is sufficient for the average home, and you should be able to manage just fine without upgrading. This is an option to consider if you have future plans for your home or yard, such as adding a pool, hot tub or some heavy equipment you may use in the garage.

Potlights:

Switch out your ceiling light fixture or track light for recessed potlighting for a sleek look that will provide more even lighting in comparison to a centrally located light fixture.

Vinyl Plank:

Vinyl plank flooring is a great option for high traffic areas as it's waterproof and scratch resistant. Whether you have kids or pets, vinyl plank will be able to handle it.
Here at Broadview Homes, we want to provide you with a functional home that fits all of your needs. Our standard layouts are sure to do the job as they are, but these additional features may be just what you need to take your home to the next level, becoming your perfectly organized dream.
Contact us today to get the process started to building your very own Broadview home!